Sugar & Salt Scrubs (exfoliate!)
Bath salts, oils, teas, and bombs
Aromatic Sprays & Perfume Oils


Highly Aromatic - Scent will not fade. Our candles have excellent scent throw and the scent lasts!

Long Lasting - These 7 oz candles burn at least 60 hours!!!! More than 1 1/2 times paraffin based waxes.

CLEAN BURNING - No soot / Smoke. No petroleum products - 100% SOY

Triple Wicked - for an EVEN burn. Won't just burn a hole down the center of your candle!

Water Soluble - Soy Wax can be cleaned up with hot soapy water! How cool is that?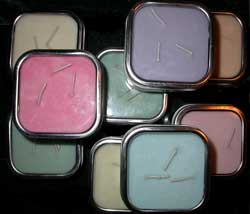 Candles are packaged in an attractive 7 ounce square tin with a windowed top. Since the wax is water soluble the tin can be recycled and used as a trinket box or another candle!
Available in scents to match our soaps and a some other great fragrances too!
Candles may be purchased individually, or as a part of
a gift set that you design yourself.
Available in the following scents:
Alaskan Rose
Alaskan Fireweed
Aleutian Rain
Alaskan Wild Berry
Aleutian Sun
Bering Breeze
Blueberry Patch
Chamomile
Dogwood Blossoms
Double Mint
Earl Gray
Eucalyptus
Forget Me Not
Frankincense & Myrrh
Fresh Peach
Gingerbread House
HoneyDew
Lavender Fields
Log Cabin (warm cinnamon, french vanilla, honey almond blend)

Milk & Honey
North Woods
Northern Lights
Oatmeal Cookie
Orange Musk
Orange-Sandalwood
Pink Grapefruit
Pumpkin Pie
Raspberry - Rose
Rosemary - Mint
Sweet Green Tea
Tropical Paradise
Truly Patchouli
Unscented
Vanilla Moose